Cygnus Hex Editor FREE EDITION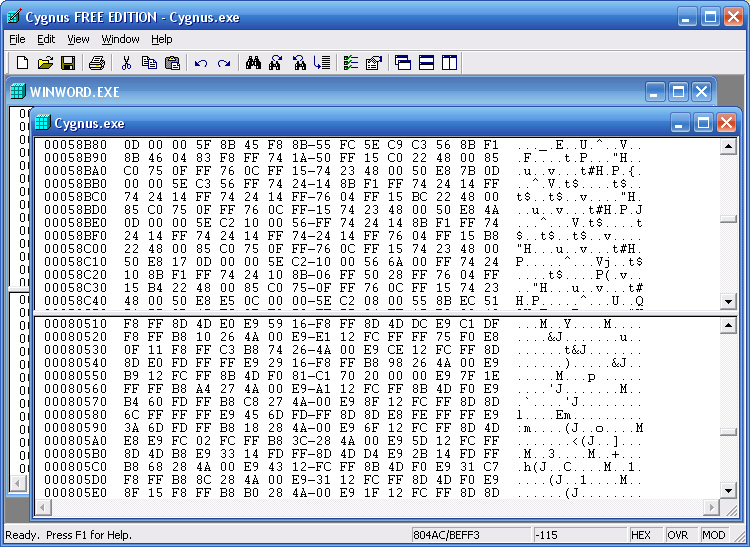 The fastest and easiest hex editor is now available for free! SoftCircuits has made a version of its Cygnus Hex Editor available to the public as a free hex editor. There is no charge and no catch. Simply download the program and start using it today.
Although the free hex editor does not have all the powerful features of our full version, it is extremely fast and very easy to use. It works as you expect a Windows program to work and, sporting all the features listed below, you'll be productive editing binary files in no time.
Fast, simple operation; delete and insert data as easily as with any word processor
Blazingly fast search quickly searches or replaces any combination of text and binary data
Multi-level undo and redo
Extensive drag and drop support
MDI (Multiple Document Interface) design allows side-by-side editing; supports multiple views of the same file
Dockable and moveable toolbars; state and position of main window and toolbars saved between sessions
Easily print all or any portion of a file; Print Preview command
Edit files up to available virtual memory (up to 2GB)
Reload command re-opens the current file from disk
Extensive, context-sensitive, on-line help
And lots more!
Sorry, we do not provide any technical support for our free hex editor. We appreciate your understanding.
This product has aged and we are currently looking at updating it and adding new features. Unfortunately, we cannot say when this might happen. Please check back here for the latest information.
Download the Latest Version
Cygnus Hex Editor FREE EDITION 1.00